Using an integrated approach and advanced behavioural targeting, iPROM reached a highly interested target market for the Salomon brand
Goals
Reach users interested in hiking and running

Subscribe 50 percent of prize contest participants to the newsletter

Collect 20,000 e-mail addresses of quality subscribers

As many registrations to running workshops in Slovenia and Croatia as possible
Based on the goals we defined and agreed on with the client, we created a two-stage digital media approach for both markets: lead-generation campaigns that ran in the spring and the autumn. We delivered integrated key-turn campaigns, which included building relevant landing pages, designing ads, advanced behavioural user targeting, sending newsletters and organizing a prize contest.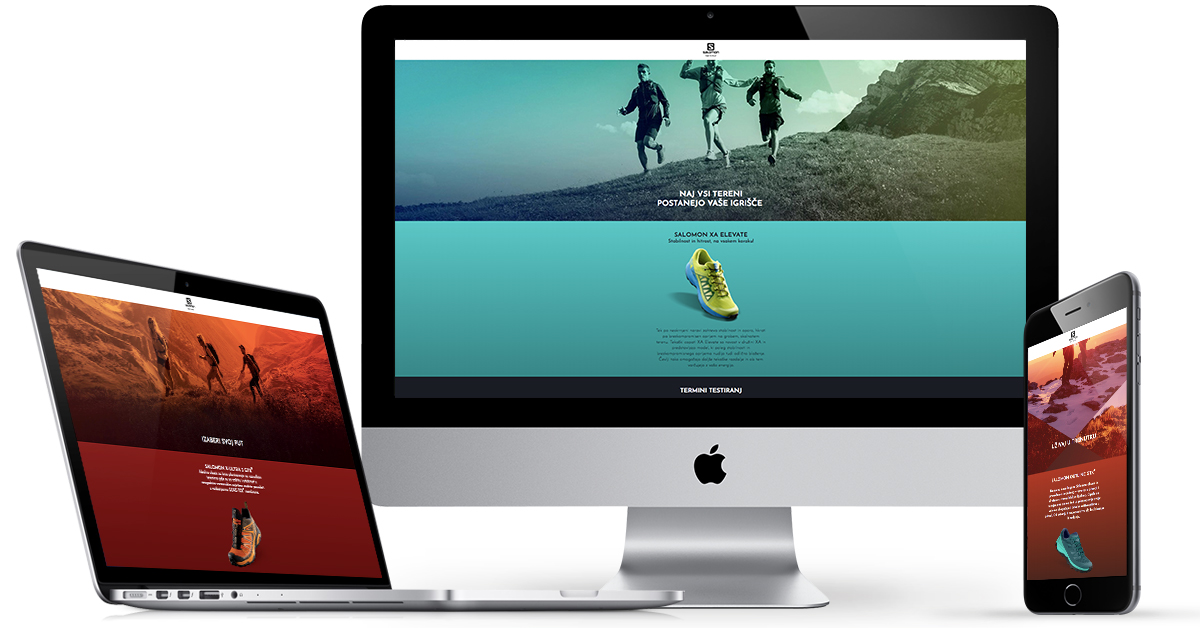 In the spring campaign, we used iPROM Cloud technology and behavioural targeting on multiple levels and effectively reached individual segments of highly interested consumers, among whom we raised awareness of the brand and offered them the possibility to participate in the prize contest. The ad campaign reached 600,000 users in Slovenia and 800,000 users in Croatia.
We used advanced format display advertising and social media ads to advertise Salomon sport shoes. We used personalized communication through custom landing pages designed to introduce the new Salomon products and the prize contest. When entering the prize contest, users could also provide a separate GDPR-compliant consent to be notified about the offering via e-mail (newsletter sign-up).
Our integrated approach, correctly defined targeting and the entire mechanics of the campaign turned out to be extremely successful. We've achieved a high rate of newsletter consents among the prize contest participants (73.4% in Slovenia; 59.7% in Croatia), which was one of the campaign KPIs.
We sent Amer Sports' newsletters to the e-mail list to introduce new products and special offers. The list turned out to be of a high quality, as our activities managed to capture highly motivated users. The open rate in Slovenia was 25.6%, which is well above industry average. The click rate was also successful at 2.9%. An even better response to the newsletter was recorded in Croatia, where the open rate was as high as 35.6% and the click rate was 7.1%.
The second, autumn stage of the advertising campaign, was set up similarly as the first one and yielded even better results. The consent to receive the newsletter was provided by 71.72% of the prize contest participants in Slovenia and 64.37% in Croatia. We also sent Amer Sports' newsletters for the Salomon brand to the list of e-mails collected during the autumn campaign before it ended. The results were even better than in the spring part of the campaign. In Slovenia, the open rate was 27%, while the click rate was 9.4%. In Croatia, the metrics were even better, with a 36.6% open rate and an impressive 15.7% click rate.