Goals
To drive car buyer engagement and establish direct contact between consumers and BKS-leasing (submitting requests for quotes, visiting the website)

To raise awareness of car leasing options among the buyers of cars valued at more than €15,000 who are interested in buying new or used Audi, BMW, Mercedes, Volkswagen, Škoda, Seat, Renault, Opel, Peugeot, Toyota, Volvo, Peugeot and Volvo vehicles

To stimulate the interest in concluding a car leasing agreement with BKS-leasing
With its affordable car leasing campaign, BKS Leasing wanted to provide new car buyers with the best terms on the market when directly concluding a leasing agreement.
To increase awareness of the offer among users, encourage user engagement and establish direct contact between the potential buyer and the leasing company, iPROM designed an innovative digital advertising campaign running on Avto.net, where new car buyers most often research and browse car offers online.
When visitors to the Avto.net web portal were browsing offers for new cars and viewed a specific listing, they were shown an automated informative calculation for the purchase of a car with BKS Leasing displayed on dynamic wallpaper.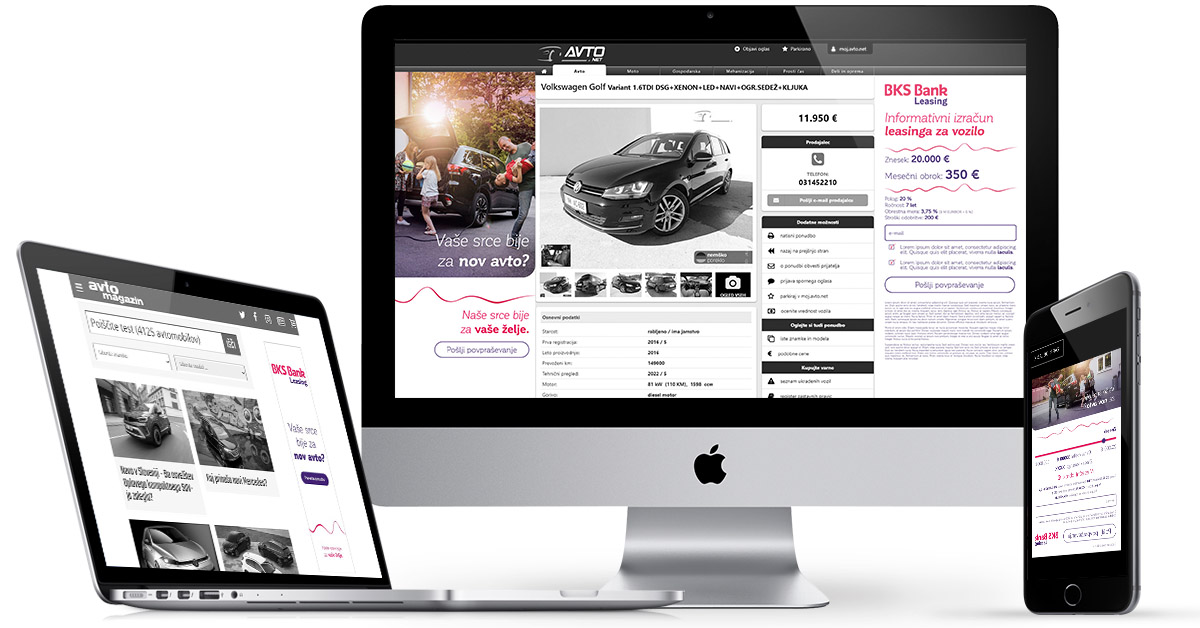 The iPROM Dynamic Wallpaper is based on iPROM's Real-time Creative technology and has been enhanced with a specific field, allowing users to submit their email address. The client then received an automatically generated enquiry for a specific offer to their email address.
A 2.4-fold increase in return on ad spend (ROAS) was achieved through an innovative approach that included personalised advertising with dynamic ad formats, user retargeting on other online media and automated enquiry submission via email. The media results were reflected in a 5% increase in car leasing sales.