Goals
Raising awareness of the new regulation among SMEs in the target segment

Informing the target group or decision-makers in SMEs about the obligations imposed on them by the new packaging fee regulation

Identifying potential new customers (leads) and acquisition of new customers who are included in Interseroh's waste packaging management scheme
We worked with Interseroh Slovenija to develop the communication campaign "We do good together", which raised awareness of the importance of partnership and care for the environment.
At the beginning of April, the Government of the Republic of Slovenia adopted an update of the Decree on packaging and packaging waste, which requires all companies selling packaging on the market in the Republic of Slovenia to report on packaging fees. This created a new segment of customers who became liable for the packaging fee and had to conclude a contract with a company authorised to handle packaging waste within 30 days of the adoption of the Regulation.
In the light of the changed legislation, packaging waste management company Interseroh launched a comprehensive communication campaign to approach new potential customers proactively. We worked with the client and designer Bojana Fajmut to develop the communication campaign "We do good together", which raised awareness of the importance of partnership, trust and care for the environment.
Identifying potential customers and raising awareness in the target segment
Our first step was to set up a dedicated website to publish key information and up-to-date news on the new Regulation and the applicable legislation. We promoted it through ads in digital media and on search engines. Advertising was coupled with a series of newsletters on the packaging fee and we started to send regular newsletters to potential customers from our existing database.
Educating potential customers about the new Regulation and upcoming obligations
Our next step was to organize a series of webinars for potential clients, in which Interseroh provided a more detailed description of the obligations imposed by the new legislation. Webinar participants were recruited through advertisements in digital media.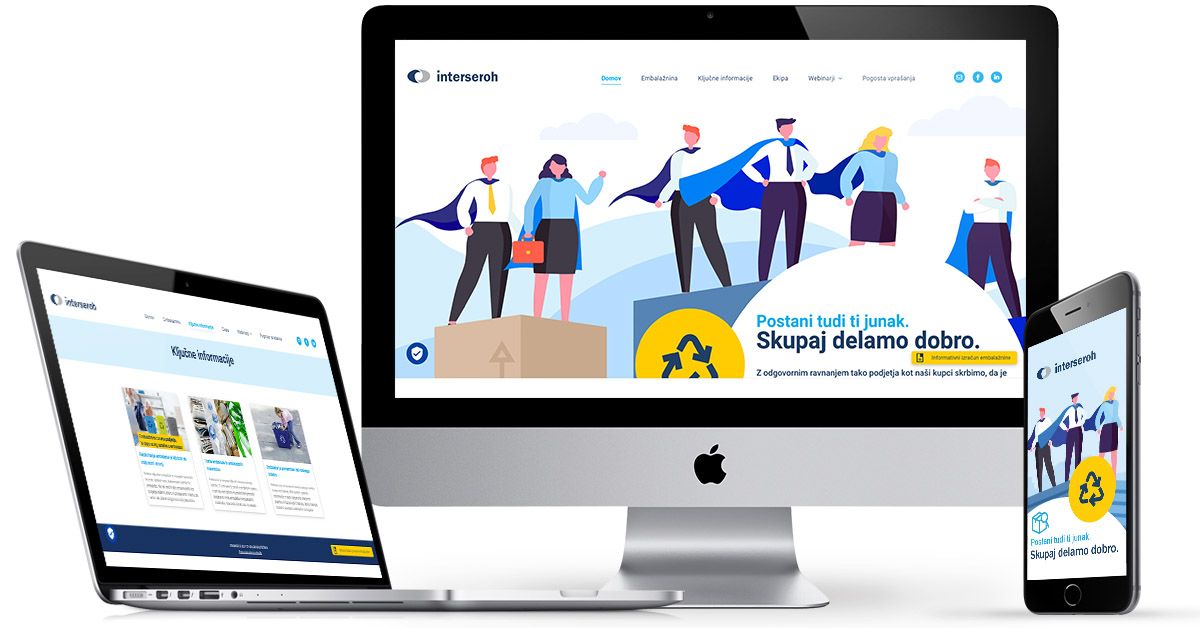 Three easy steps to conclude a deal with Interseroh online
After the Regulation took effect, the client followed the example of its Austrian subsidiary and set up a simple online store, which allowed a client who decided to cooperate with Interseroh Slovenia to do so in three simple steps: 1) receive an informative calculation; 2) conclude a contract; and 3) sign the contract to transfer the obligation to Interseroh.
We promoted the online shop with a short explainer video, advertised it on social media, shared it in our e-newsletter, and reached those interested in the packaging fee with search engine advertising. As part of the campaign, the client also provided sales support through a call centre and after-sales activities in the market.
Interseroh's digital advertising campaign successfully attracts potential customers
Our digital media advertising activities used behavioural targeting combined with retargeting to reach a narrow target group of more than half a million users who either expressed an interest in relevant business content or are decision-makers in SMEs. The dedicated website was visited by more than 5,500 interested visitors who viewed more than 11,000 pages in total.