Goals
Introduce the new Microsoft Surface laptop to Slovenian consumers.

Stimulate interest in buying from the three selected retailers and boost sales.

Enrich the client's private data silo (iPROM Private DMP).
Microsoft was looking to use digital advertising to support the launch of the new Microsoft Surface laptop and further increase direct sales of the product through three Slovenian retailers.
To engage with potential buyers effectively, iPROM designed a data-driven digital advertising strategy based on a two-phase approach.
The first phase was dedicated to collecting digital contacts, enriching the client's iPROM Private DMP (Data Management Platform) private data silo and analysing target groups' behavioural patterns. To enrich the data silo, we combined display advertising in content media with influencer marketing.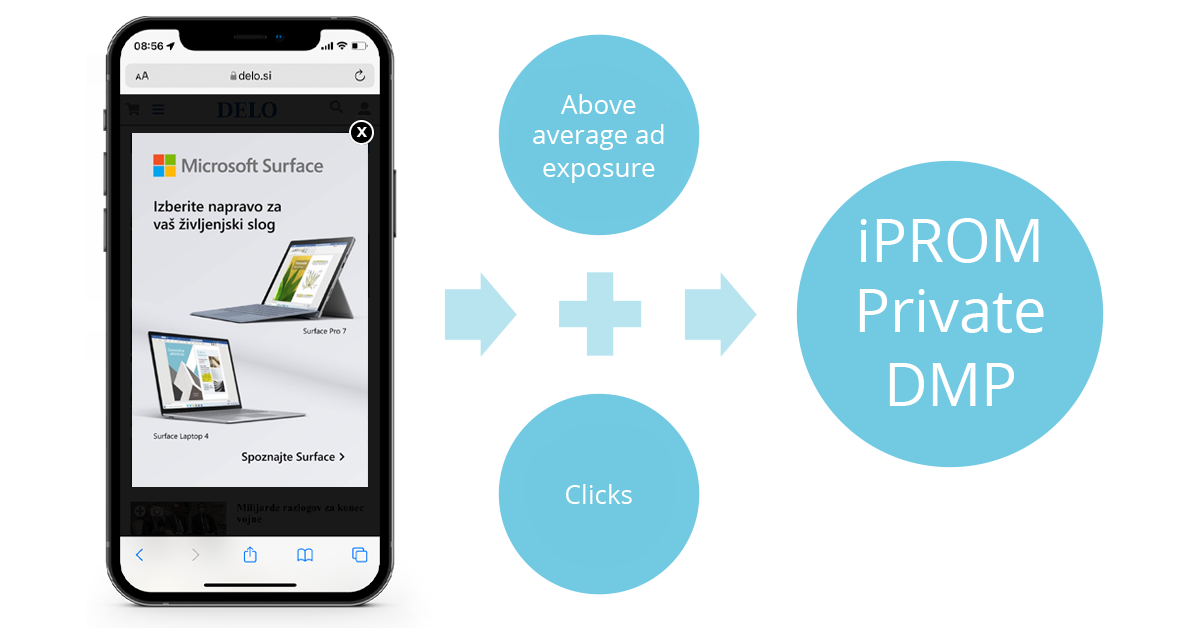 In the second phase, iPROM used machine learning to expand the target group of potential laptop buyers based on data gathered in the client's iPROM Private DMP platform. During the campaign's second phase, iPROM served ads to people on the open internet through content media and used advanced ad formats for display advertising. The ads in the second phase were displayed to new users, whose purchase intent was predicted based on data from behavioural patterns determined in the first phase of the campaign's and the client's prior advertising activity.
The data-driven advertising campaign, built on iPROM's Ad Tech solutions, outperformed the target reach by 13%, sending more than 20,000 potential customers to retailers and increasing sales of the new laptop by 20%.
»We wanted to showcase the new Microsoft Surface devices as effectively as possible, so we worked with iPROM to create a digital communication concept that delivered excellent results. iPROM's idea to combine a straightforward creative solution and advanced technology was recognized as a best practice by other countries within our CEE region. There is no lack of trust between us and the agency and that always results in great ideas and well-executed campaigns,« commented Anja Šiftar, Consumer Channel Marketing Manager, Microsoft CEE Growth markets.