Goals
Introduce the remote account opening service to new customers

Bring the bank closer to online users and raise awareness of the new, easier access to the bank

Increase the number of visitors to the landing page for remote account opening during the campaign by 100%

Increase the number of accounts opened online by 50% compared to the period before the advertising campaign
In the spring, Sberbank publicly launched a new service – ability to open an account remotely by using electronic identity and video identification. This has enabled existing and potential customers to access the bank from anywhere and at any time, even though it only operates 12 physical branches in Slovenia. With the goal of increasing visibility and driving the usage of the improved service, we developed an advertising campaign under the slogan "We've never been closer.".
The campaign consisted of a video ad, traditional and advanced ad formats in digital media, and influencer activation on social media.
To reach the four different target groups as effectively as possible, we tailored the advertising messages to reflect the four different personal accounts that customers can open remotely.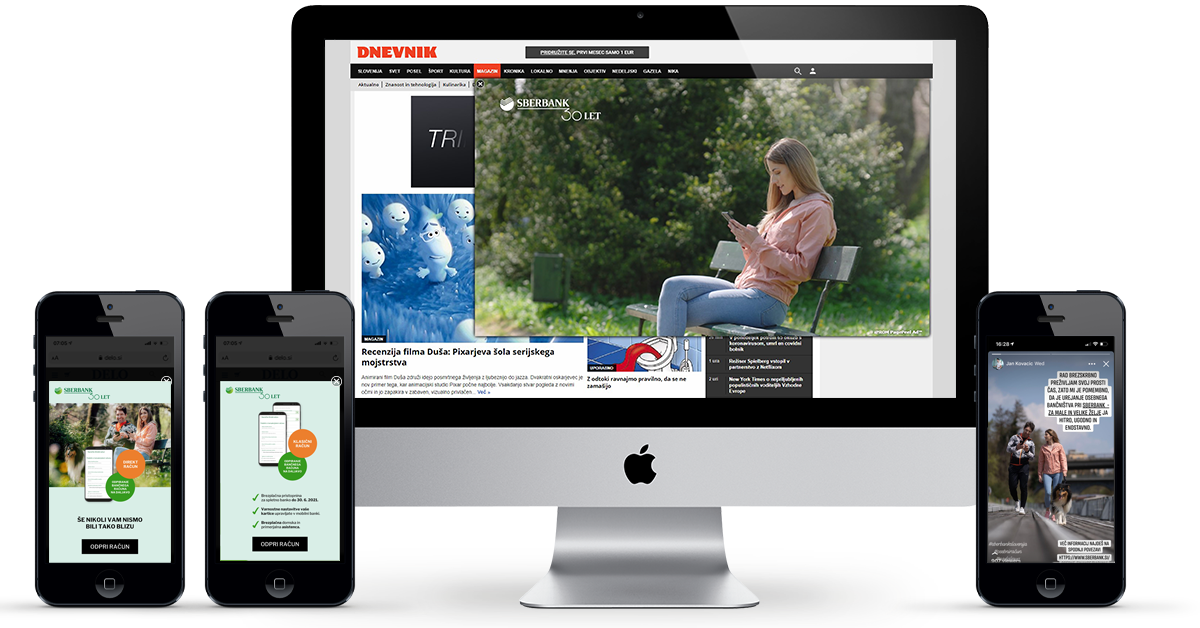 iPROM Cloud technology was utilized to reach the target group more efficiently.
In Sberbank's data silo, we combined data from the client's past advertising campaigns and data on the behavioural patterns of visitors to the www.sberbank.si website. This allowed us to target our ads more precisely at digital media users with similar media habits.
We further increased the conversion rate or the number of accounts opened online, by retargeting users who visited the website but did not open an account. We were able to increase it by 25% by using tailored advertising messages.
During the 14-day campaign, the client saw a 210% growth in the number of remotely opened accounts  compared to the previous two months. Our online advertising messages reached 320,021 targeted users. Mobile ads achieved the greatest response, with the iPROM Mobile AdBreak™ mobile ad format reaching the highest click-through rate (CTR 3.22%). Overall, 81.618 unique target users watched the entire video (54%), confirming the high level of engagement.