Goals
Improve awareness of SKB banka's consumer loan offering with an emphasis on the segment of consumers who are not yet SKB banka's clients and on improving website traffic

Increase the number of consumer loan calculations and drive the number of submitted requests for appointments

Encourage Slovenian consumers interested in consumer loans to complete a calculation and submit their information through the contact form
SKB banka wanted to launch a digital advertising campaign that would stimulate demand for loans intended for car purchases, home renovations and other expenses (e.g., computers, children, premium health services, education, etc.). To measure the performance of its campaign, the bank set the number of loan calculations and submitted requests for appointment at the bank branches as its KPIs.
iPROM worked with Valicon and SKB banka to design a digital media strategy that included predictive modeling. Advertising using advanced targeting and predictive modeling was carried out across content providers' properties and social media and on search engines.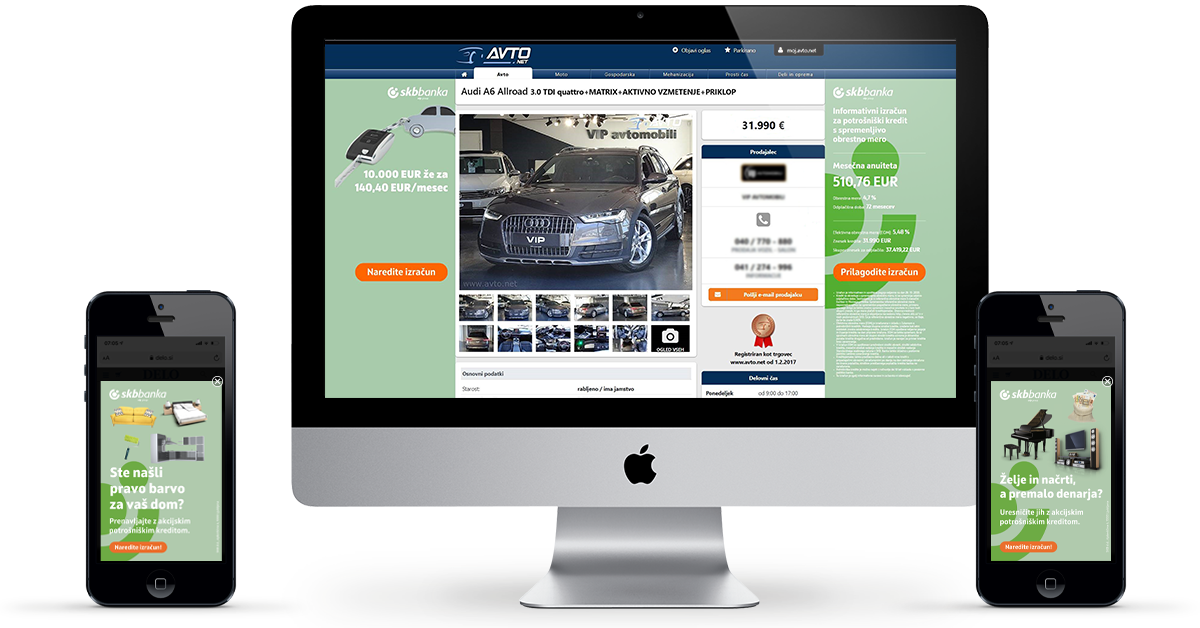 Using predictive targeting and modeling to reach the target audience more accurately
During the first stage of the advertising campaign, iPROM worked with Valicon and used data obtained during previous campaigns coupled with the behavioral patterns of digital media users to carry out a predictive analysis. Using machine learning and statistical algorithms, the company identified potential segments of borrowers and integrated the forecast model into its iPROM DMP data management platform, which is used by SKB banka to build its own data warehouse – iPROM Private DMP using information from past campaigns.
During the second stage, iPROM used iPROM Programmatic Platform to limit the display of advertising messages only to those internet users who are interested in taking out a loan to buy a car, renovate a home or fulfill other wishes. This way, advertising messages were only served to individuals who could be placed to the identified target segment with at least 90 percent confidence.
In the third stage of the campaign, iPROM further refined its advertising approach by including remarketing. Ads were only shown to users who viewed relevant banking products on the SKB banka website but did not directly perform a loan calculation or submit an application. This increased the conversion rate by additional 8 percent.
Improving response rates by using an innovative dynamic background to calculate consumer loan automatically
iPROM used state-of-the-art iPROM Real-time Creative technology to achieve its advertising campaign goals. The strategy included a proven and proprietary format, which enabled SKB banka to automatically adjust advertising content based on the starting point of an individual digital media user. For the target group of potential customers for car loans, iPROM used a dynamic background with automated consumer loan calculation, which allowed online users to calculate the loan for a specific car without leaving the media property.
This solution allowed iPROM to offer its client an effective solution that delivered relevant and personalized content to a potential customer during the research stage on their customer decision journey.
Advanced targeting and modern creative solutions improved SKB banka's market share for consumer loans
During the 6-week advertising campaign that drove product awareness, iPROM delivered more than 38,000 consumers interested in taking out a loan to SKB banka's website. Among all visitors, 80 percent were first-time visitors to the site. Interested consumers made over 12,000 loan calculations in total.
"In October and November 2020, SKB banka visibly increased the number of new customers for our consumer loans. Using predictive targeting, segmented advertising and sales-focused landing pages, we doubled the number of contacts of leads that we could invite to take out a consumer loan," said Maja Treven, Marketing Manager, SKB banka.