In the past year, iPROM used its software solutions for the dissemination of advertising messages to show 22.31% more ads to digital media users than in the year before. For the third consecutive year, the commerce branch holds the largest share of ads displayed (18%), closely followed by the car industry (nearly 17%).

The commerce branch takes the lead when it comes to ads displayed in digital media
When it comes to the share of ads displayed in digital media, first place was, once again, awarded to the retail industry last year (share of 18.06%), closely followed by the automotive industry (share of 16.97%) which grew by 2.4 percentage points compared to the year before. The third highest share of ads displayed was, once again, awarded to the financial branch; in comparison to 2018, however, it grew by nearly 3 percentage points. The entertainment and leisure industry recorded an 11.47% share, thus being awarded fourth place (in 2017, this industry was awarded second place). The fifth and sixth highest share of ads displayed in digital media were awarded, respectively, to the tourism industry (share of 10.31%) and telecommunications branch (share of 7.68%).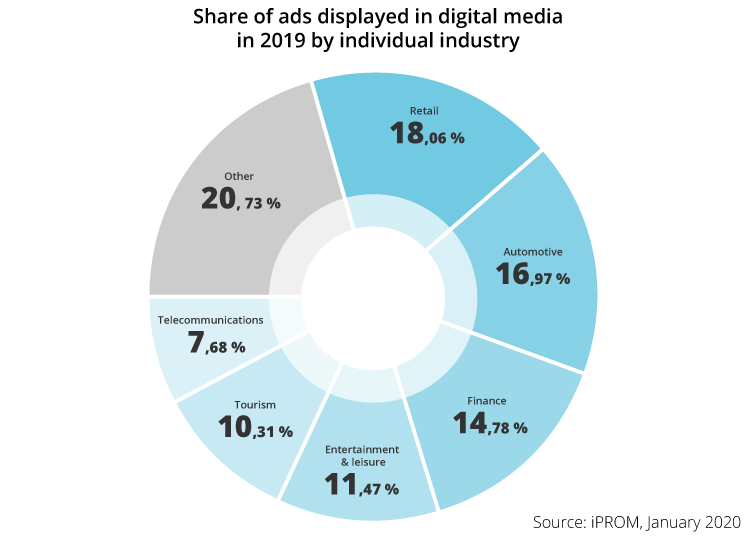 »In Slovenia, investments in digital advertising are growing at a rate of about 20% per year. The growth in investments and the relatively stable proportion of shares between the leading branches prove that, when it comes to efficiency, the digital branch is confirming its primacy in the field of advertising,« says Andrej Ivanec, the Media Planning Director of iPROM, about this analysis.
 iPROM has been monitoring the number of ads displayed in digital media since 2005.
About iPROM
iPROM is a leading regional provider of media and technology solutions for digital advertising on the open web. Our knowledge and experience help our customers streamline the complexities of marketing in the digital environment. By combining advanced technology with the most comprehensive consumer behaviour data on the market, we enable our clients to display the right advertising messages to the right person at the right time on the right device while also helping online publishers grow revenues.
iPROM is a high-tech company that brings together the broadest range of consulting, analytical, media and software solutions needed in digital media advertising. Our continuous investments in technological development help us stay ahead of the competition and keep our clients at the front of the minds of their target audiences.