iPROM has launched iPROM Retail, a new service that enables advertisers to use data-driven advertising for personalised targeting across all stages of the customer journey, from awareness to purchase. Consumers, in turn, benefit from a more relevant customer experience highlighting products that really interest them. iPROM's innovation enables advertisers to use their proprietary data effectively and securely, providing them with a significant long-term competitive edge in the era of Web 3.0.
iPROM Retail is designed for marketers who want to leverage digital advertising to learn more about their target audience, increase engagement and drive sales both online and in their physical stores. It combines state-of-the-art technology for automatic digital ad design and sales catalogue digitalisation with iPROM Private DMP, a technology solution for building proprietary advertising data warehouses.
"Digitalisation is on the rise, and the advertising industry is undergoing significant upheaval. iPROM Retail is a solution that responds to advertisers' needs as they strive to protect and fully utilize their own digital consumer contact data. The service includes solutions that help advertisers reach consumers more effectively at each stage of the buying process and leverages data to adapt advertising in a way that allows advertisers to make the most of their advertising investments while retaining full control over their own data," explains Kristjan Pasar, Product Manager for iPROM Retail. He adds that, according to the Shopper's Mind 2021 survey conducted by a consortium of Valicon, iPROM and Ceneje.si, consumers predominantly use digital media in the pre-purchase research and decision-making process, regardless of whether they shop in a physical store or online.
From improved brand recall to more effective sales promotions
iPROM's innovations include state-of-the-art technologies for the automated design of creative advertising solutions (iPROM Spider Ad), the digitalisation of sales catalogues (iPROM Katalogi) and the building of proprietary data silos (iPROM Private DMP).
iPROM Spider Ad uses deep learning to automate digital ad creation based on the consumer's current stage of the customer journey. iPROM Katalogi converts sales catalogues to digital format and uses data-driven distribution to reach digital media users. iPROM Private DMP provides a secure and competition-proof environment for advertisers to collect data on all contacts related to their digital activities. Advertisers can then combine data on the behavioural patterns of users of their own media with digital ad interaction data and employ deep learning to create a solid foundation for their future advertising activities.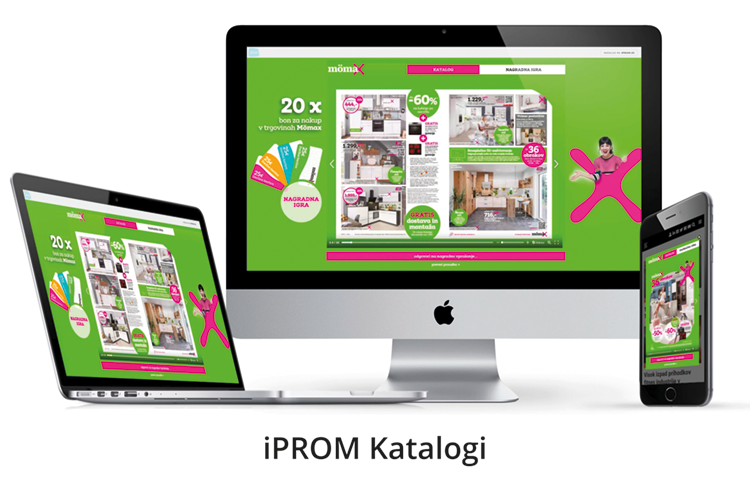 Advertising powered by proprietary data and artificial intelligence
Based on iPROM's programmatic platform, iPROM Retail is powered by iPROM's proprietary technology solutions for data-driven advertising, real-time campaign optimisation and automatic adaptation of creative advertising solutions using artificial intelligence. Combined with iPROM Private DMP – a private data silo – this solution allows retailers to safeguard their campaign data from competition and further enrich it in a fully secure environment by using API connections to other data systems.
About iPROM
iPROM is a leading regional provider of media and technology solutions for digital advertising on the open web. Our knowledge and experience help our customers streamline the complexities of marketing in the digital environment. By combining advanced technology with the most comprehensive consumer behaviour data on the market, we enable our clients to display the right advertising messages to the right person at the right time on the right device while also helping online publishers grow revenues.
iPROM is a high-tech company that brings together the broadest range of consulting, analytical, media and software solutions needed in digital media advertising. Our continuous investments in technological development help us stay ahead of the competition and keep our clients at the front of the minds of their target audiences.