iPROM upgraded its iPROM Native technology platform to version 6. In addition to a combination of behavioural and semantic targeting, the platform also provides an automated process for designing creative solutions based on the behaviour of digital media users.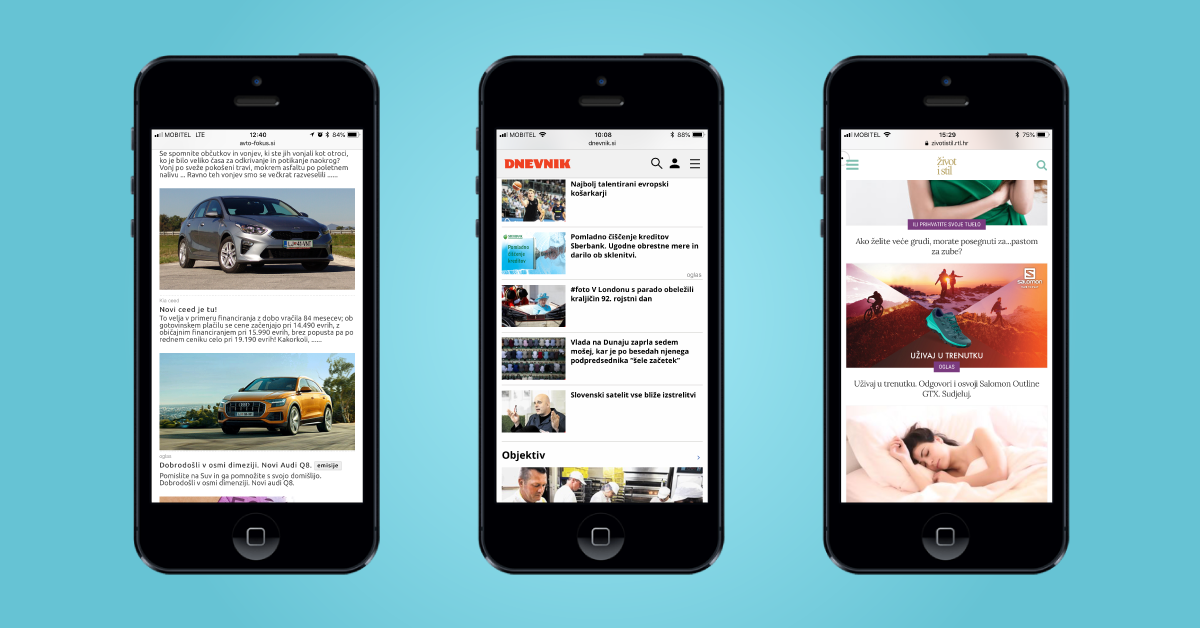 »Native ads attract consumers' attention by delivering content in a way that is similar to the editorial content on a digital property. iPROM Native 6.0 is the largest and technologically most advanced platform for native advertising and is a key component in the native advertising strategy of the most recognizable brands in the Adriatic region. It enables advanced targeting using smart data and provides an automated process for creating relevant content based on the target audience,« explains Andrej Ivanec, Digital Planning Director, iPROM.
When native ads deliver the right message to the right consumers
iPROM Native 6.0 enables brands to take an innovative and creative approach to speak to individuals using the right channel with the right content at the right time. This allows advertisers to address consumers with the stories that are most important to them.
The advantage of native ads is that they attract consumers' attention by providing content in a way that is consistent with the user experience on the digital property where the ad is displayed. Advertisements created with iPROM Native 6.0 achieve above-average visibility and are more attractive to digital media consumers as they perceive an advertising message as high-quality content.  iPROM Native 6.0 also integrates well with remarketing, allowing advertisers to customize content with additional information and then serve it again to the consumer who has already seen its content or advertisement.
The most advanced technology platform for native advertising
iPROM Native 6.0 technology platform allows the automated creation of native formats. Using advanced technology, iPROM Cloud offers behavioural and semantic targeting and provides an automated process for customizing relevant content based on anonymized user behavioural patterns by automatically formatting image material and content. By using advanced algorithms, it can also automatically adjust the position of ads. The platform is compatible with mobile and desktop devices and formats.
iPROM Native since 2002
As a pioneer in the development of technology solutions for digital advertising, iPROM offered the first solution for native advertising (iPROM Native 1.0) in 2002, when it first began programmatically purchasing text-based (in-banner) ads in online media. In 2003, iPROM Native 2.0 was updated with the ability to automatically adjust content in an ad. Three years later, iPROM introduced iPROM Native 3.0, which enabled advanced conceptual targeting using text ads that gained additional positions in online media. As a result of cooperation with experts from Jožef Stefan Institute, the platform was upgraded with semantic targeting (iPROM Native 4.0) in 2013 and in 2015, iPROM responded to the increasing penetration of the use of native formats with the development of iPROM Native 5.0; this version offered company's clients special advertising areas and formats that resemble editorial content even more. iPROM Native platform has become a regular component of digital strategies of the largest brands in the Adriatic region, such as Volkswagen, HOFER, A1, UniCredit Bank, Thermana Laško, Lek, Sberbank, mömax, Mladinska knjiga and others.
About iPROM
iPROM specializes in planning and running advertising campaigns in digital media. The tools we create are used across the industry by advertisers, direct marketers and web publishers and help them plan, execute and analyze their digital marketing activities. They are designed to increase the effectiveness of these activities as well as to make the complex world of web advertising a little simpler for our customers, justifying their investments with outstanding returns.
In a data-driven world, ad-serving efficiency is very important. Using media properties, data analytics, in-depth research and the smartest technology available, we enable marketers to deliver the right message to the right person at the right time, every time. With our tools for ultra-precise targeted audience segmentation, effective planning and proficient execution, companies are equipped to build better brands, more successful operations and stronger customer relationships.