Compared to last year, the reach of Slovenian digital media increased by 10.17 percent and user activity has grown by 6.65 percent. Users increasingly access online content using their mobile devices. iPROM's survey of technology characteristics of devices used by consumers to access digital media revealed that Slovenian users continue to use desktop computers for in-depth reading of digital media content.

"The monthly reach of Slovenian digital media has increased by more than ten percent compared to last year. Considering the fact that the number of internet users in Slovenia only increased by a couple of percentage points, this is encouraging news for digital publishers in our market. Increased reach and the fact that individuals viewed more content than in the past year can also be attributed to the fact that content is better adapted to mobile devices that are the primary tool to access it," Andrej Ivanec, Media Planning Manager, iPROM, commented the results.
The use of mobile phones to access digital media is slowing down
The ratio between the shares of devices used by consumers to access digital content as recorded in May only changed by 4 percentage points compared to the previous year. The share of mobile devices grew by 2 percentage points, while the share of personal computers saw a corresponding decrease of 2 percentage points. This reveals slower growth in the use of mobile devices compared to previous years. Personal computers retain an important role for in-depth reading of content produced by Slovenian media.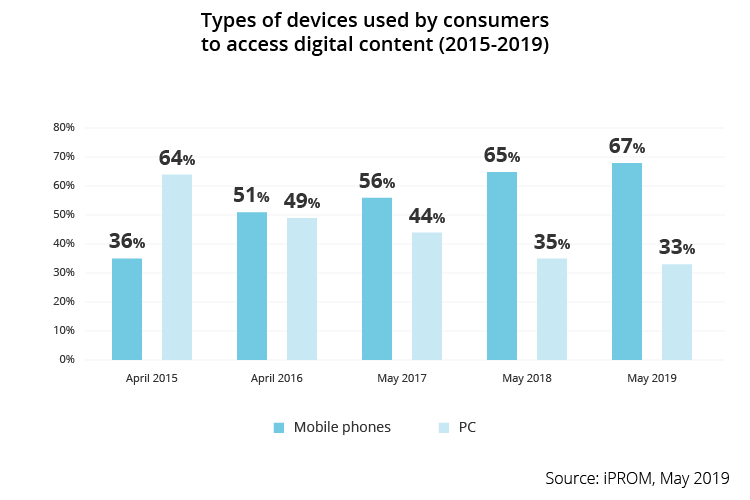 iPROM's survey of the technical characteristics of devices used by internet users to access digital content reveals that the trends in the use of devices have completely reversed over the past five years.
Undisputed dominance of Windows 10
The data collected by iPROM's May survey shows that almost 60 percent of Slovenian internet users trust the latest version of Windows 10. The results make Windows 10 the most popular operating system among Slovenian users.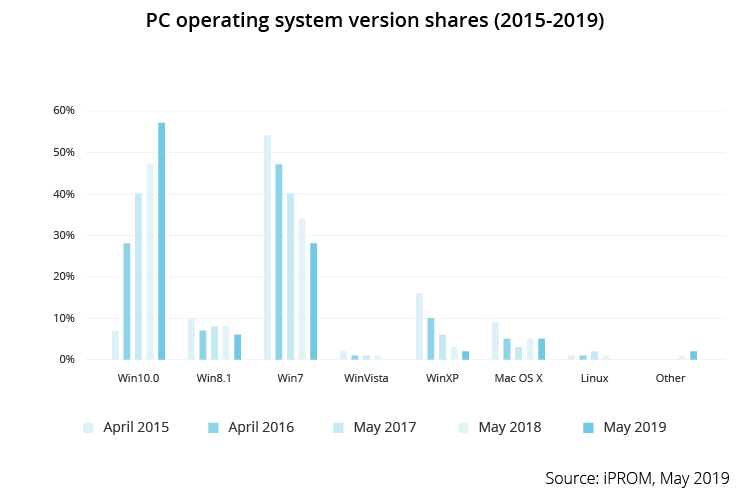 Different versions of Windows operating system continue to dominate desktops and laptops with 93 percent market share. The share of users with desktops and laptops with Mac OS X remains the same as in the same period last year – 5 percent.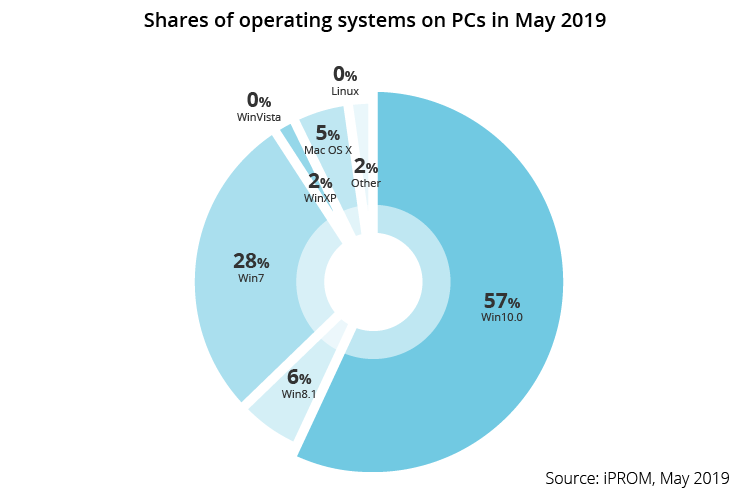 The shares of operating systems on mobile devices remain roughly the same as in 2018. Android continues to lead the market with 72 percent market share and iOS captured 28 percent of the market.
Slovenians prefer Chrome to browse the web on the desktop.
Chrome browser is trusted by more than a half of all Slovenian media users. Compared to last year, changes in browser shares were very small and the browsers took the same places.
Chrome browser share grew by 2 percentage points to 53 percent, while Firefox captured only 22 percent of the market. In contrast to the decrease recorded by Microsoft Internet Explorer (13 percent market share), Microsoft Edge gained 2 percentage to capture 8 percent of the market, a jump attributable to Edge being the default Windows 10 browser.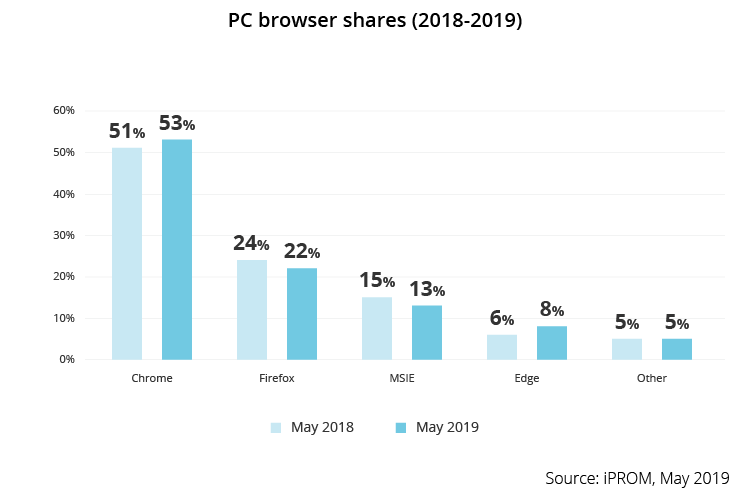 Methodology
Data used to carry out iPROM's analysis of the technology characteristics of the devices used by Slovenian internet users to access digital content is captured during the same period each year. iPROM captures and analyses data once per year using its iPROM Cloud platform. The analysis was performed on a sample of 1.58 million of Slovenian internet users. In accordance with IAB standards, the sample includes 15.5 billion of measurement requests.
About iPROM
iPROM specializes in planning and running advertising campaigns in digital media. The tools we create are used across the industry by advertisers, direct marketers and web publishers and help them plan, execute and analyze their digital marketing activities. They are designed to increase the effectiveness of these activities as well as to make the complex world of web advertising a little simpler for our customers, justifying their investments with outstanding returns.
In a data-driven world, ad-serving efficiency is very important. Using media properties, data analytics, in-depth research and the smartest technology available, we enable marketers to deliver the right message to the right person at the right time, every time. With our tools for ultra-precise targeted audience segmentation, effective planning and proficient execution, companies are equipped to build better brands, more successful operations and stronger customer relationships.