In 2020, Slovenian online advertisers will spend the most on display advertising. The study carried out by iPROM and Valicon among 220 Slovenian advertising and marketing decision-makers shows the effectiveness of digital advertising continues to be the key driver behind its adoption. The key findings of this year's survey of Slovenian companies' attitudes towards digital advertising reveal that while specialized digital advertising agencies are growing in importance, companies still rely primarily on their internal data when planning advertising activities in digital media.
»We undertook the study at the beginning of the year when nobody suspected what spring months had in store for us. I believe that the impact on the economy is not visible yet and we will not know what's what for a while. Despite that, I believe these events will again drive the development of digital activities as a whole and investments in digital advertising will continue to grow. We are already seeing changes in consumer behaviour and companies will need to respond and look for new digital marketing channels and opportunities,« said Matjaž Robinšak, Valicon.
In Slovenia, advertisers will spend the most on display advertising
In 2020, Slovenian digital advertising and marketing decision-makers will again invest the largest share of their budgets into display advertising (28 percent of all budgets), followed by social media advertising (20 percent), search engine marketing (18 percent), e-mail marketing (10 percent) and influencer marketing (9 percent). The most commonly used type of digital marketing is social media advertising (94 percent), followed by display advertising (93 percent), search engine marketing (85 percent) and e-mail marketing which will be included in the marketing mix by 77 percent of respondents.
»At the start of the year, decision makers planned to increase their 2020 digital advertising spend by 17 percent year-on-year. The picture will be clearer in the autumn, when it will be easier to see how the funds within marketing budgets will be redistributed. It seems as if the combination of increased digital media consumption and performance will drive an even more pronounced shift of resources to the benefit of digital advertising. As we analyse our clients' investments through April and May, I can say that the shares of the most utilized types of digital advertising remain unchanged,« Andrej Ivanec, Media Planning Manager, iPROM, commented the results.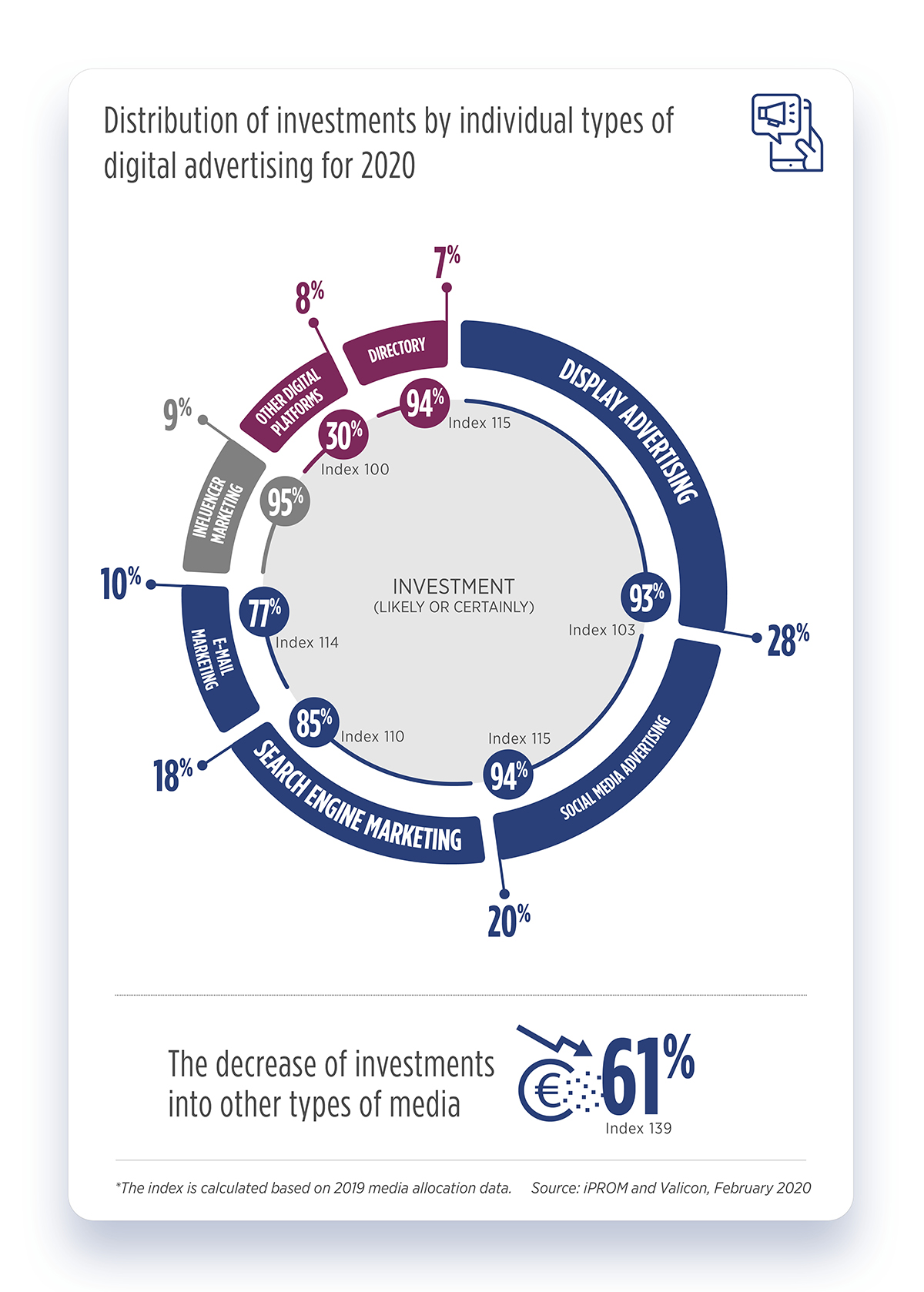 Effectiveness of digital advertising is the key driver of investments
Similar to last year, the main reasons to use digital advertising in 2020 are effectiveness (71 percent), accurate metrics and effective evaluations of advertising campaigns (59 percent), compliance with personal data protection regulations (59 percent) and advanced and more effective targeting (55 percent). Compared to last year, the highest growth index (116 percent) was recorded by compliance as a driver of investments, which reflects the growing awareness of this issue among advertisers.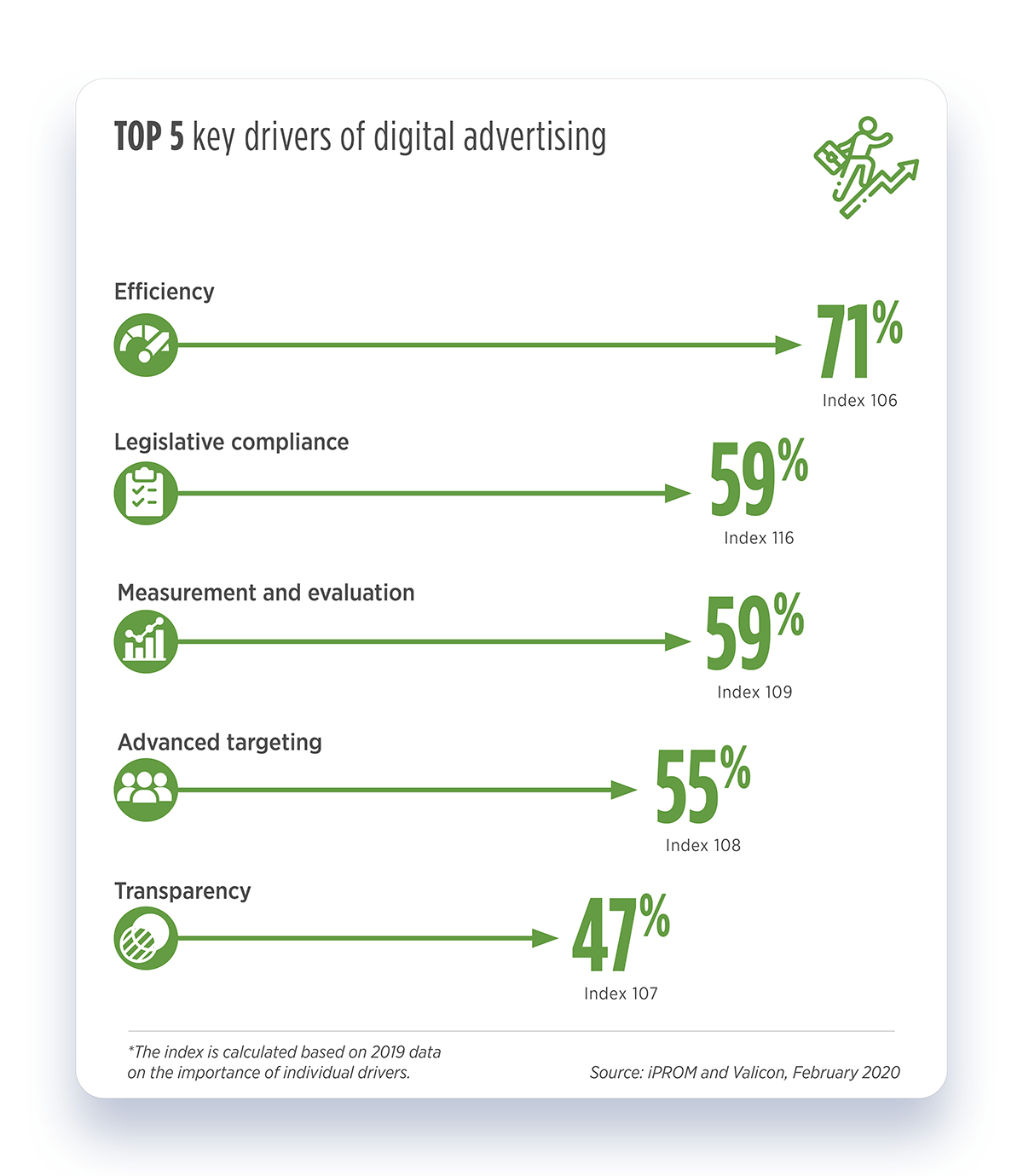 Specialized digital advertising agencies are rising to prominence
Marketing decision makers are increasingly choosing to work with specialized digital advertising agencies (61 percent) to work on their digital advertising efforts. Compared to last year, this trend recorded a 139-percent growth index.
Internal data used for planning advertising activities
When planning advertising activities, 92 percent of companies rely on their own internal data. Advertisers also value data acquired through social networks (61 percent), data provided by digital advertising partners (56 percent) and publicly available data (51 percent).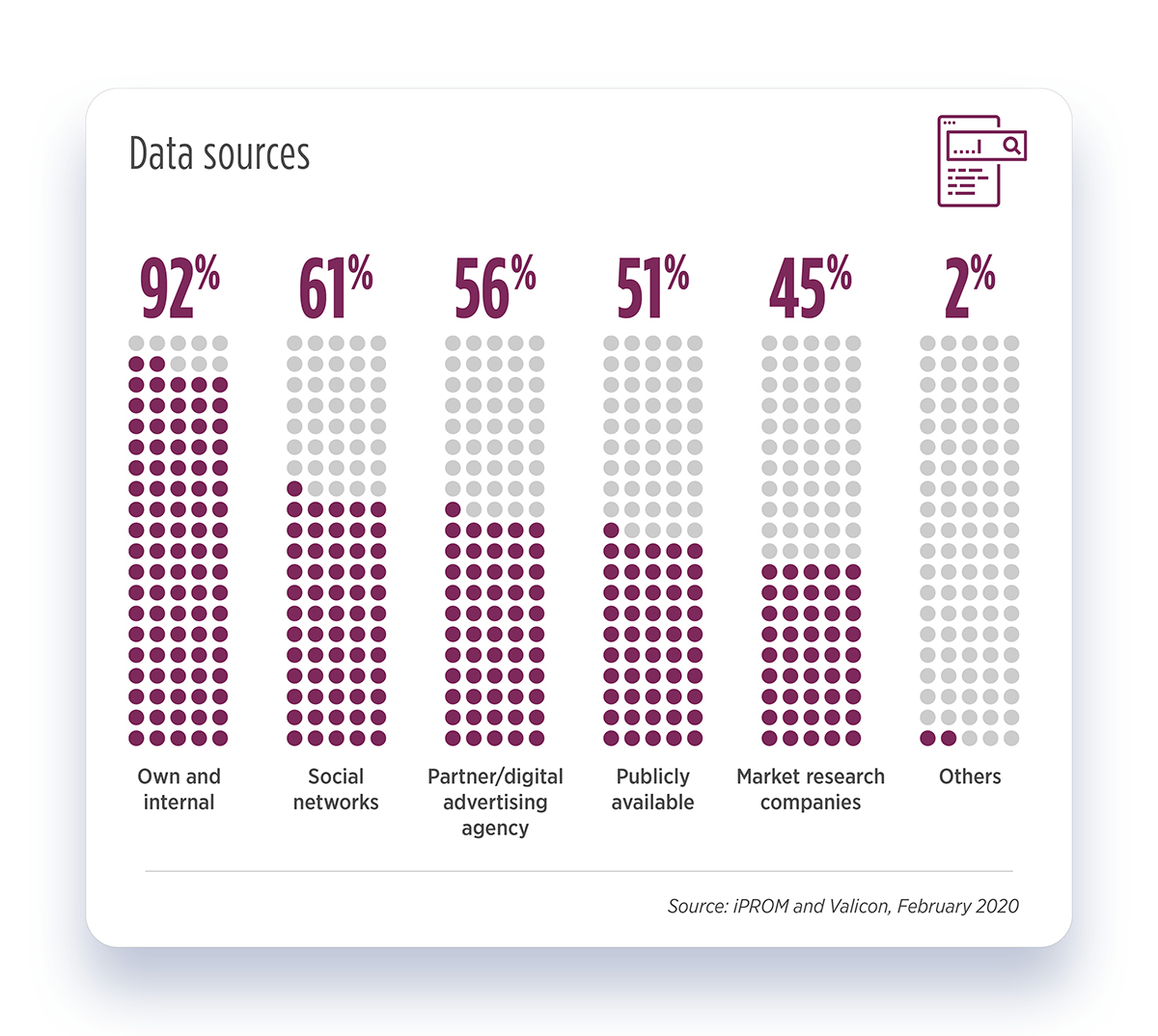 Use of marketing technologies by Slovenian marketing decision makers
The survey has shown that when carrying out marketing activities, companies most commonly use e-mail marketing tools (80 percent), CRM systems (65 percent), social media management tools (56 percent) and marketing automation tools (47 percent). Compared to the previous year, the tools for creating chatbots experienced the most pronounced upwards trend with a 132-percent growth index.
»It has become a cliché to say that digital advertising growth is driven by accelerated consumer digitalization. I am convinced that marketing decision makers will continue to shift their spending towards digital activities because of their proven performance. Since companies are currently implementing various technology solutions, we can expect that marketing technology investments will become more important and the investments in this area will continue to grow,« said Simon Cetin, iPROM.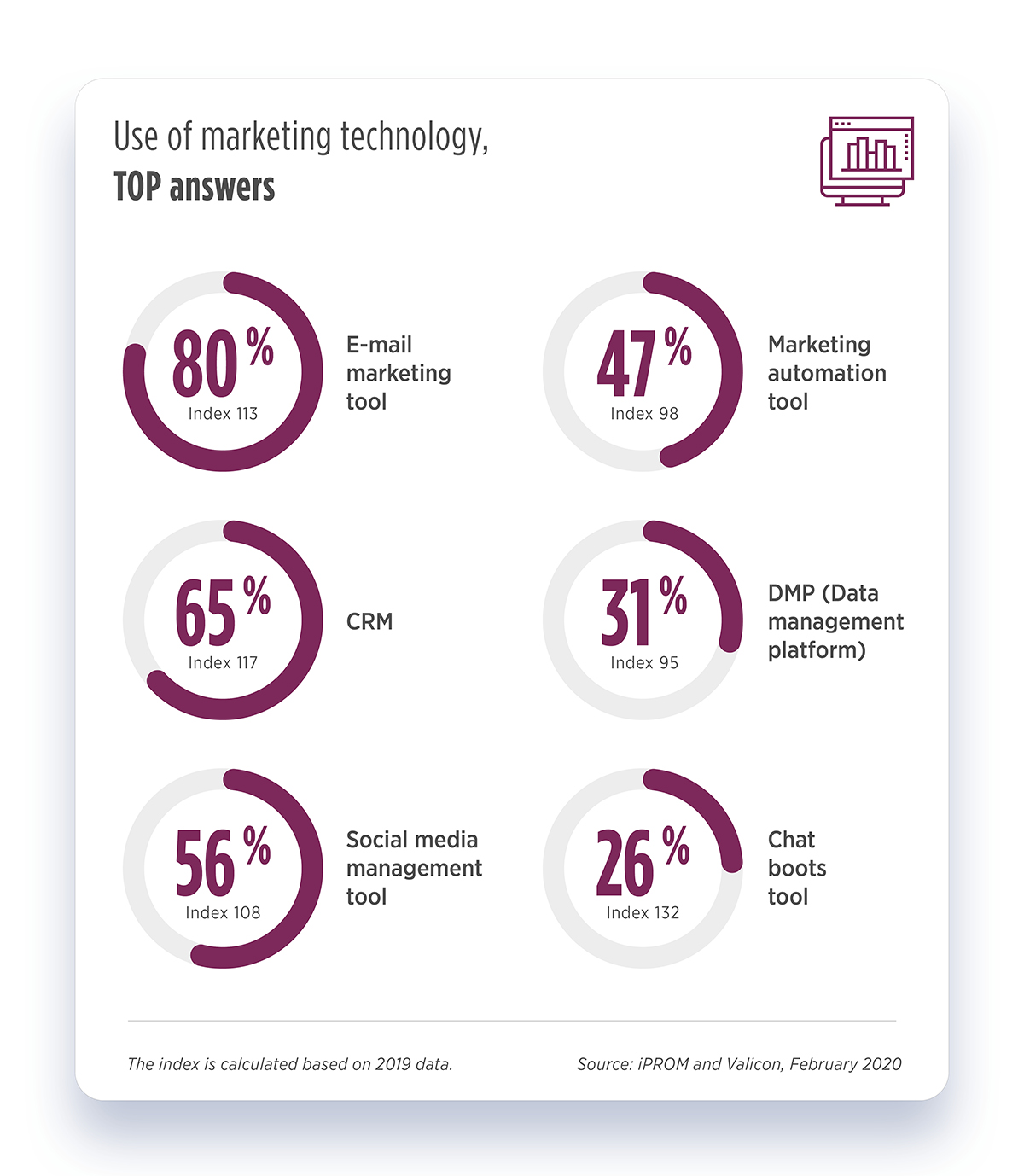 Research methodology
The survey was carried out by iPROM in partnership with market research agency Valicon between 8 January and 10 February 2020 using an online CAWI survey. On average, the respondents spent 8 minutes on the questionnaire. The survey covered 220 decision makers from Slovenian companies who make decisions or influence the decisions on allocating marketing and media resources.
About Valicon
Valicon is one of the leading marketing consulting and opinion research companies in Southeast Europe. Valicon specializes in small markets, customer-tailored solutions, advanced methodology and in-depth insight into the customer's field of operation. The company's core business is marketing consulting based on market research. Valicon offers its clients its services in the entire territory of the former Yugoslavia, as well as in other European countries through selected partners.
About iPROM
iPROM is a leading regional provider of media and technology solutions for digital advertising on the open web. Our knowledge and experience help our customers streamline the complexities of marketing in the digital environment. By combining advanced technology with the most comprehensive consumer behaviour data on the market, we enable our clients to display the right advertising messages to the right person at the right time on the right device while also helping online publishers grow revenues.
iPROM is a high-tech company that brings together the broadest range of consulting, analytical, media and software solutions needed in digital media advertising. Our continuous investments in technological development help us stay ahead of the competition and keep our clients at the front of the minds of their target audiences.