In cooperation with iPROM, Fraport Slovenia's Customer-Personalized »Destinations from Ljubljana Airport« campaign won the Grand Prize awarded by the DIGGIT expert jury in the category of digital advertisements.
Fraport Slovenia's data-driven advertising campaign that leverages modern capabilities and advantages of technological standards for advertising in the open web 3.0 achieved above-average sales results. The display advertising strategy, which is based on the protection and intelligent use of Fraport Slovenija's proprietary data, recorded a 12% conversion rate. Read the details of the campaign in the case study.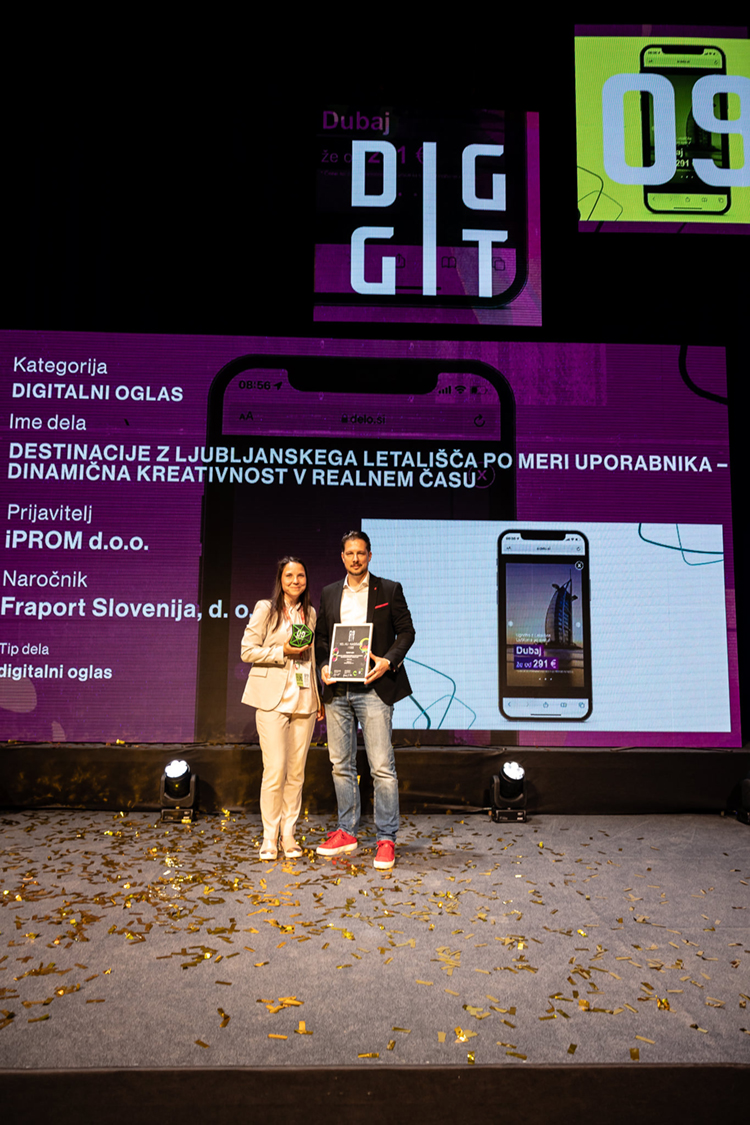 »If we want to stand out, we have to be different. Fraport Slovenia is fully aware of this and we're looking for ways to advertise effectively using high-tech solutions and working outside the conventional framework. To build a solid foundation for the future, we have partnered with iPROM for their knowledge and vision of the web to come. They help us continually refine our approaches to reach target audiences and achieve results. With the solutions we are designing, we are also responding to the marketing challenges of the future,« commented Monika Jelačič, Communication Expert at Fraport Slovenia.
»We are particularly happy about the award because the expert jury recognized the importance and effectiveness of advertising approaches enabled by the technologies for the open web of the future. The business results we achieved by integrating Ad-Tech solutions into Fraport Slovenia's marketing are an excellent illustration of how long-term collaboration produces the best results in today's fast-paced, data-driven world. We are delighted when the client works with us to push the boundaries and co-create new, independent digital advertising ecosystems,« said Leon Brenčič, Client Service Director, iPROM.