Andrej Ivanec, Media Planning Director of iPROM, has conducted an interview with the business magazine »Svet kapitala«, in which he discussed the necessity of targeted advertising in this new reality.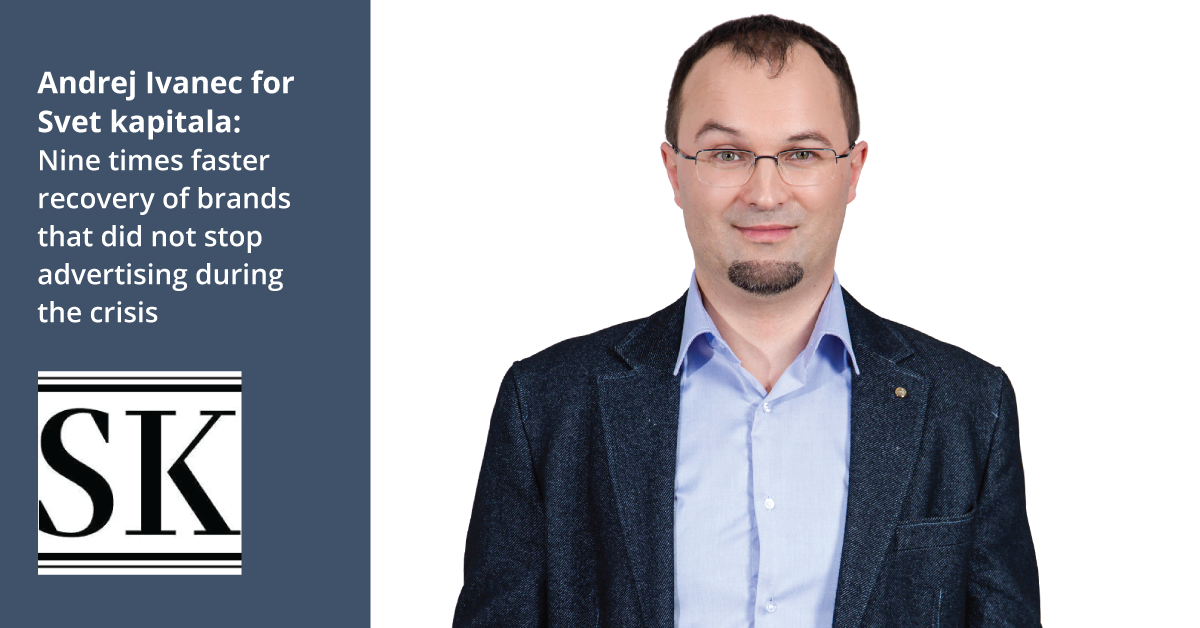 Andrej Ivanec believes that both companies and consumers must adapt to the new situation by finding the ways to build bridges between the existing supply and demand. The digital channels where buyers leave their digital traces and, as a consequence, their data, are an excellent starting point for an insight into the purchasing behaviour of the customers, and can even permit us to predict their behaviour.
It is important for the information to reach the consumer at the right time, in the right place, and with the right message. Here, digital advertising can be of tremendous help. During the interview, Andrej Ivanec also noted the history of the past periods of crisis which shows that the manner used by brands to respond and communicate in such trying times has an important influence on their survival and on the rate at which their business processes recover. The media consumption survey carried out by iPROM and Valicon in October 2018 has shown that, after the crisis of 2008, the Slovenian citizens have changed their consumption behaviour but have kept their purchasing habits. As a result of the current situation and the measures adopted in the framework of social distancing, media consumption and purchasing journeys are currently also undergoing a change.
»The digitalisation of both people and businesses is taking place at an accelerated pace. In March of this year, our technological infrastructure for digital advertising recorded a 40 per cent increase in the daily reach of Slovenian digital media in comparison to February, while the daily reach increased by more than 40 per cent in the Adriatic region. The reach of some specialised web media or specialised thematic categories has even increased by two or three times in comparison to February. In my entire career, I have never seen such growth over such a short period,« said Andrej Ivanec, Media Planning Director of iPROM, in his interview with Svet kapitala.
His advice for companies? Catch this digital wave and take this opportunity to shake up their media planning, messages, and points of contact with their consumers in order to reach them in a way that consumers will consider interesting, by using the channels where they are present today. Increased consumer activity on digital media shows that it makes sense to reinforce marketing activities, which is why Ivanec recommends that companies shape a precisely directed method of communicating with target groups. He adds, however, that it is efficient to make use of local opportunities, as digital media in Slovenia nowadays benefit from incredible reach and a high level of visits. In a short period of time, they allow us to reach the entire Slovenian web population, and with the correct use of targeting, we can efficiently and quickly also reach each individual target group.
The full article was originally published in the business magazine Svet kapitala issued by Delo on 30 April 2020, bearing the title Crisis advertising: useless cost or excellent investment? (page 1–4).