In an interview with Media Marketing, Matjaž Fajfar, Expansion Manager for Adriatics and DACH at iPROM, outlines iPROM's mission and strengths, discusses the growing importance of independent advertising technology solutions, and explains why the open web has become a fundamental ecosystem for powerful brands.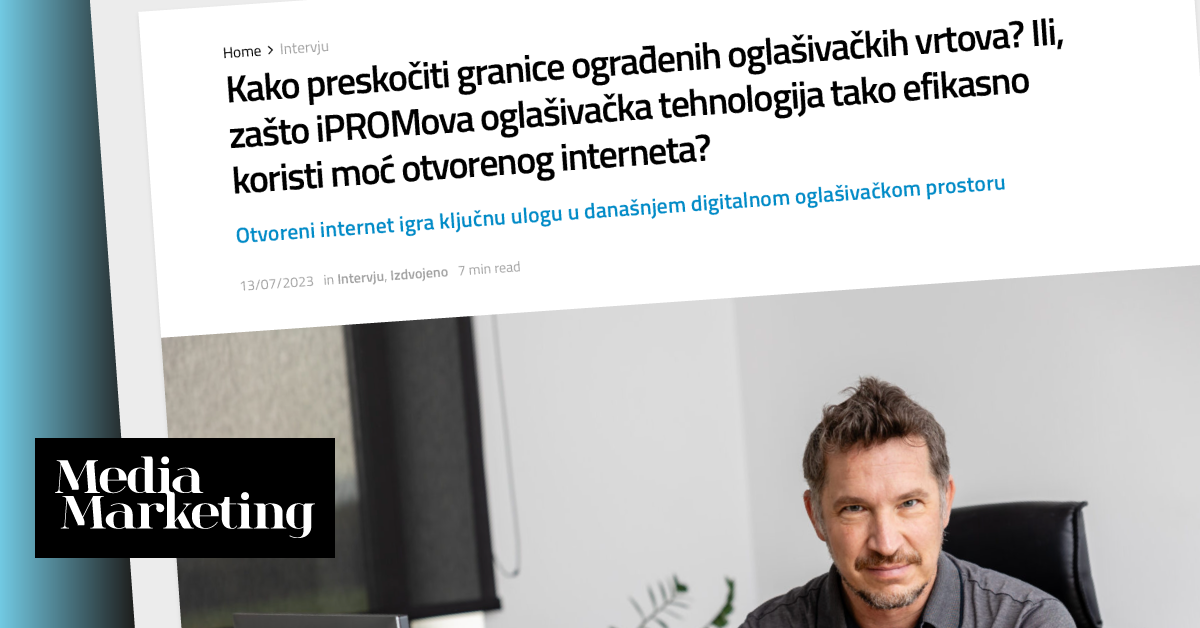 Matjaž Fajfar, Expansion Manager for Adriatics and DACH at iPROM, spoke to Media Marketing and highlighted the importance of connecting advertisers with audiences in effective and innovative ways using advanced advertising technologies.
Fajfar talked about two key technological solutions that significantly improve the effectiveness and performance of advertising campaigns on the open web. The first, iPROM Programmatic Platform, facilitates the efficient management and optimization of programmatic advertising campaigns. The second solution – iPROM Private DMP – is used to manage proprietary data and integrate valuable second- and third-party data sources to create accurately targeted campaigns. Both solutions are part of iPROM's suite of independent Ad-Tech solutions.
He also highlighted the crucial importance of the open web in today's digital advertising landscape.
"At iPROM, we understand the importance of connecting with audiences beyond closed ecosystems or walled gardens. Our solutions are designed to integrate seamlessly with the open web, allowing advertisers to expand their reach and engage users across a wide range of websites and digital platforms. By using iPROM's programmatic platform, advertisers gain access to an extensive network of publishers and ad exchanges, enabling them to target and serve ads to relevant audiences on relevant and quality websites. This open web approach ensures that advertisers can reach a diverse set of users, amplifying the exposure and impact of their advertising campaigns," explained Fajfar.
In addition, Fajfar also addressed the challenge of ad blindness, which advertisers often face when users become immune to conventional forms of advertising. iPROM addresses this challenge by creating compelling and engaging ad formats designed to capture users' attention.
"We recognize that users are more likely to respond positively to ads that are relevant to them and seamlessly integrated into their digital experience. Above all, these ads must be properly targeted and personalized. Our creative team collaborates closely with advertisers to develop innovative ad formats that cut through the noise and grab users' attention. These formats include dynamic ads that personalize the ad experience based on user data and behaviour. By delivering relevant and compelling messages, iPROM helps advertisers overcome ad blindness and create meaningful connections with their target audiences," explained Fajfar.
Finally, Fajfar touched on the evolution of the web, with the rise and exponential advances of artificial intelligence, which he sees as a positive development, as it facilitates automation, improves targeting and makes it easier for advertisers to design creative content. However, he believes that AI cannot replace genuine human relationships and will only become a companion to humans in everyday life.
"iPROM has been using AI and machine learning for years, integrating them into our technology solutions for better targeting, automated design of ads, and ad distribution. Increasingly, we are using them to automate routine work as a content and creative creation tool. Artificial intelligence is a machine that can be a good co-pilot, yet in my opinion, it will never replace authentic human relationships, the sparks of interpersonal communication, and the bonds that we humans forge with one another. It will become our companion, just like the smartphone with all the apps that today offer us many functionalities that have become indispensable to our lives," Fajfar concluded.
The interview was originally published in Media Marketing: Matjaž Fajfar for Media Marketing: How to move beyond the boundaries of walled advertising gardens or how does iPROM's advertising technology effectively harness the power of the open web?