McKinsey highlights the importance of the Chief Data Officers (CDO) as key to shaping crisis responses.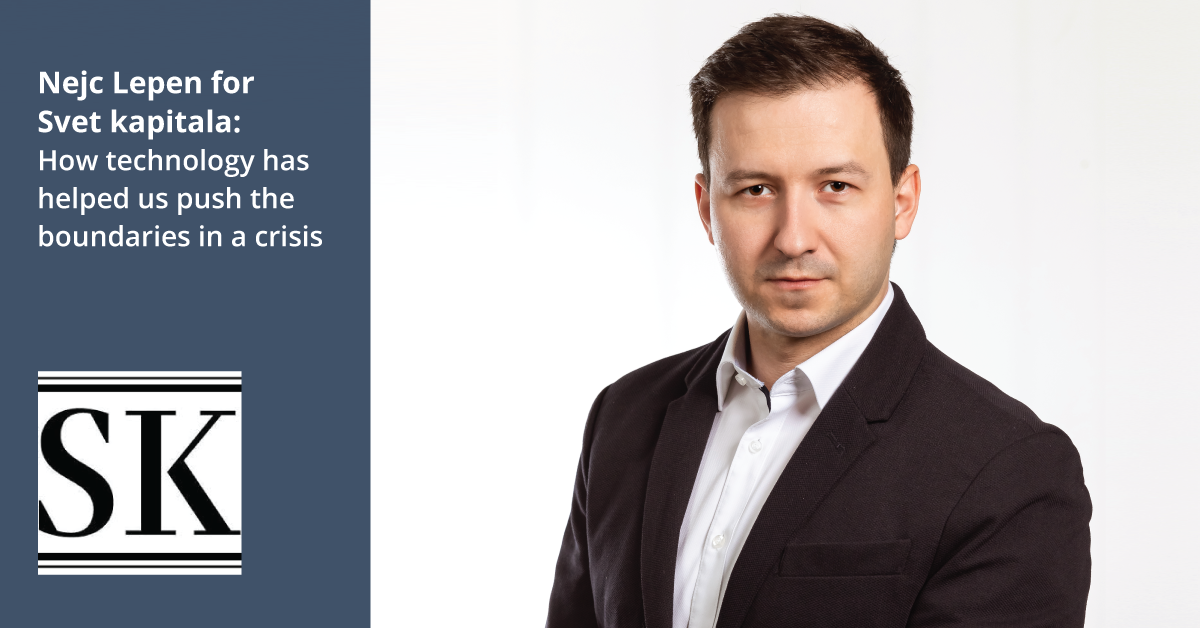 Today, more than ever, entrepreneurship is required of us. Act quickly, be agile and respond to market impulses in order to meet the needs of consumers here and now. The lesson that the Covid-19 pandemic period has taught us is that sometimes things are difficult to predict, let alone predict accurately.
If the heads of development and IT departments have invested a lot of energy in arguing why digitalisation of processes is important and what competitive advantages the use of advanced technological solutions brings, Covid-19 accelerated this process overnight. Certain cloud solutions and services were implemented by companies practically overnight in order to ensure sustainable operation.
Digital channels and technology have become more important than ever
From one day to the next, the situation has forced us, through technology, to connect marketing and development even more, looking for new effective ways to communicate and build relationships with consumers. We have witnessed accelerated digitisation as consumers have switched en masse to digital channels and media.
»Undoubtedly, this period also motivated us to think even more creatively. How can we make it easier for our clients to work and enter the world of digital advertising? How can we help them reach their potential consumers even more effectively in the new reality through digital media? And finally, what are the challenges of the future that we have to face as a pioneer in the field of advertising technology, co-creating the digital media ecosystem?«
At iPROM, we survived this transition without any major problems. Our business has been conducted remotely from time to time, and our services have long been based on the use of advanced advertising technology, which allows us to plan campaigns based on data, manage campaigns from a single centralised point, which greatly simplifies the launches, and finally monitoring and adapting these campaigns in real time. All in the light of the same objective – to ensure the efficiency and successful implementation of advertising campaigns on digital media. And that objective became even more important during the Covid-19 pandemic.
The situation required an agile response
Although the situation forced us and our clients to adapt certain marketing activities in order to ensure business stability and sales support, our responses to the situation mostly took place in three steps: data analysis, crisis strategy development and advertising campaign implementation. As in every crisis, we have been forced to take steps practically within a few days at a time of changing circumstances.
For example, in iPROM, we launched an awareness campaign to curb the spread of coronavirus virtually overnight; we enabled some subscribers to switch to online trading in a couple of days and set up an online store within a week; in accordance with the introduction of new measures, communication on digital channels was adjusted almost hourly. Our customer relationships have become even more intense with the use of modern long-distance communication platforms. The response time for the implementation of certain activities was shortened in certain respects by the Covid-19 pandemic, but on the other hand it forced us as users into intensive digitalisation.
Data usage made making the right decisions easier
Data gave meaning to our daily lives during the pandemic. Businesses and organisations that were at the forefront at the time of the pandemic relied on data when making decisions and based their communication with the public on it.
For example, McKinsey highlights the importance of the Chief Data Officer (CDO) as a key player in shaping crisis responses. In today's unpredictable society, where the risks are higher, wrong information and false news have become our everyday life, and decision-making is accelerated, the need for the position of Chief Data Officer (CDO) or data analyst has become crucial. Their task is to provide time-relevant, accurate data.
It is a fact that companies that had their own consumer data and shopping habit insights during the Covid-19 pandemic were able to adapt and respond to the changes more quickly and go through the aforementioned data analysis-strategy development-implementation process. On the other hand, companies that lag behind in a digital development model or persist in the old ways of operating, and do not use smart technological solutions that would allow them to make decisions based on data analysis, could find themselves in the dark and left behind at the mercy of market reports and projections from various experts and strategists.
Technology helped us make quick leaps
Technology has helped us push the boundaries of our daily lives, and on the other hand, it has built bridges between us. For example, telecom operators recorded a record increase in Internet use, and users accelerated the transition to plans offering more data transfer. In our agency, it turned out that all the solutions set in the past, going in the direction of automation, internal work digitalisation and conducting business with remote customers through the iPROM Extranet platform were excellent investments.
Due to the increased, record use of digital media, on the other hand, we faced technical and infrastructural challenges, and our system administrators were constantly in full alert and keeping an eye out so that the technological infrastructure was working flawlessly. There is no doubt that the virus completely surprised us in this respect, but on the other hand, together with telecommunications operators, we proved that the Internet network in Slovenia is ready for the technological leaps offered by the Internet of the Future, which will connect Internet of Service (IoS) to the network, together with the Internet of Things (IoT).
A period marked by transformation and innovation
The past has taught us that unclear economic conditions can be an incentive for both the development of new projects and our own transformation. Many market giants, including Microsoft, General Electric, FedEx and IBM, were born just before the economic collapse. The crisis collapse between 2007 and 2008 also led to a number of (negative) economic upheavals, but still stimulating innovation. In 2008, we upgraded the business model at iPROM and expanded our services from the advertising network to the field of digital advertising and communication agency services and at the same time we began to offer advertising technology solutions.
Business growth and the expansion of the range of services and the number of subscribers in recent years is just a confirmation that our decision was correct. Today, we are thinking about how to form an even more intelligent connection between digital media and the Internet of Things, so that our subscribers can deliver relevant content to their target groups at the right time and in the right place even more effectively.
We are contemplating how to facilitate and further simplify digital advertising by using advertising technology that shortens supply chains when leasing space in digital media and provides subscribers with transparency and effective monetisation of media resources. We believe that business process optimisation of in the field of media space trading and data management will become even more important in the future and that advertising technology will play a key role in this market transformation.
Marketing and advertising technology provide competitive advantages to companies
The integration of e-commerce is a prerequisite for entering the world of marketing channel digitalisation. The current situation also supports the introduction of consumer data platforms, systematic data set analysis, the introduction of machine learning processes and artificial intelligence solutions and other modern digital technologies. Infrastructure and technological solutions in the field of marketing and advertising are already very well developed. We offer a complete solution with consulting and development support to companies that want to fully digitalise in the field of digital advertising.
We are aware that there are also companies among us that did not actively think about a digital strategy until March 2020, but have certainly questioned its significance and importance in the last month. In the spirit of time and limited resources, we advise them to tackle the challenge gradually and try to identify which digital channels they will develop as a priority and how to support them in terms of communication.
A digital advertising strategy is the second step, because with offering your products or communicating via the increasingly buzzing Internet, you also need to reach a potential buyer – at the right time with the right message in the right place. This is true today not only for the B2C business area, but also for B2B, where digital channels and new ways of doing business have replaced live face-to-face meetings and professional trade fair events overnight. The more the business moves online, the more this media space is filled and the more important it is to stand out from the crowd with your product. Effective.
The full article was originally published on the Svet kapitala's website.